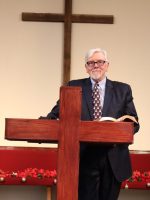 Pastor Morris was born physically in Pittsburgh PA and was born again spiritually there also. He started pastoring in 1982 in LaVale, Maryland. Planted his first church in Watertown, Connecticut in 1984. He has led churches in MD, CT, PA, OH, MN, TN, TX, NV, ID, NM, in his 40 years of ministry. Started three churches, CT, PA, and TX, and two Christian schools, CT, PA.
He acquired a BMin., from Uniontown Baptist Schools, a ThB., and ThM., from Andersonville Baptist Seminary, along the way in his educational journey he attended Manahath School of Theology in Altoona, Pa. Calvary Bible Institute in Greenville NC., and Covington Theological Seminary in Rossville GA as well.
Pastor Morris enjoys sports, Hockey, Baseball, and NCAA Football, Church history and preaching. He spends all of his spare time with his wife Patricia (Trish).They arrived in Alamogordo in May of 2021. Gateway is experiencing slow but steady growth under his leadership.
Pastor Morris would like to invite you to, "Come experience the difference at Gateway."